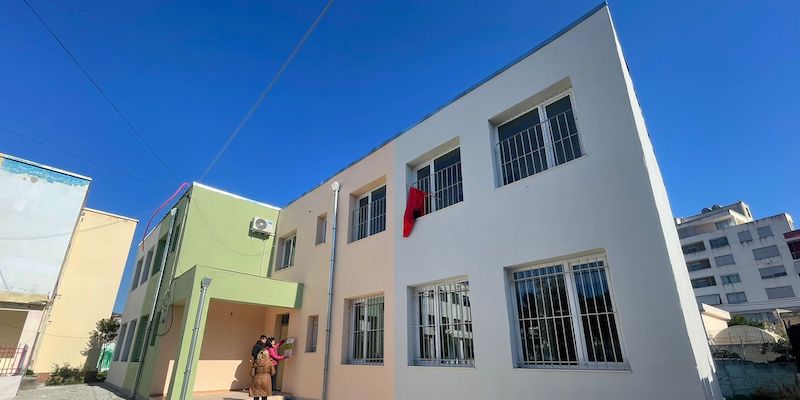 Municipality of Vlora is about to complete its pilot action in the Municipal Kindergarten
Overview
In the frame of CO-CLEAN Project, the Municipality of Vlora (PB4) has almost finalized its pilot action in the Municipal Kindergarten, located in the western part of the city.
In fact, in the last few days, the works for the requalification of the kindergarten and its technical systems have been completed. The building had major damage to the external structure, had no heating/cooling system in all classes and did not ensure appropriate levels of thermal comfort for its users. However, thanks to CO-CLEAN Project, PB4 has carried out the following activities to date: the total renovation of the external walls, including thermal isolation, plaster and painting; the thermal insulation of the ground floor, including laminated parquet; the total renovation of the roof, including thermal insulation and hydro insulation; the replacement of the existing windows with double glazed plastic windows; new doors and a new HVAC system, in this way ensuring more comfortable and suitable conditions for children and teachers in their daily activities.
The building will soon be equipped with solar panels for hot water, thus improving thermal comfort conditions for its users and increasing the efficiency of the kindergarten in terms of electricity consumption. Moreover, this project will limit the environmental impact of the kindergarten, which will consequently become an example of best practice for the entire community.
The Vlora Municipality is partner of CO-CLEAN Project, whose overall objective is increasing energy efficiency and the use of renewable energies in the programme area through the implementation of innovative and consolidated actions, training and awareness-raising activities for citizens and stakeholders. In this sense, all the pilot actions of the project are inspired by the principles of energy democracy, consistent with EU DIRECTIVE 2018/2001 and aim at creating energy communities composed by active energy citizens or "prosumers" and SMEs. The other partners of the project are the Municipality of Brindisi, the Consortium for the Industrial Development of the Biferno Valley, the Municipality of Racale and the Municipality of Berane.